"I am not a typical tourist. I enjoy meeting new people and discovering new cultures and customs. I like walking and participating in outdoor activities but I'll admit it, I prefer my comforts, less strenuous and demanding exercise... and I like my rum at the end of the day."
.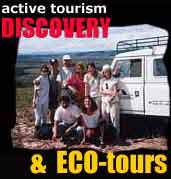 Angel Falls
The world's highest waterfall,
979 meters (3,212 ft.) is falling off Auyantepuy, a flattop, sandstone mesa located in the jungle in Southeastern Venezuela. (For part of the legend of Jimmie Angel, click here)
EXCURSION TO ANGEL FALLS
Fly to Canaima, sail by boat to Angel Falls, sleeping in hammocks for 2 nights. An excursion for everybody.
3d/2n

RIVER EXPEDITION TO
ANGEL FALLS
River expedition around Auyantepuy, from Kavac to Canaima following the rivers Akanán, Carrao and Churún, to reach Angel Falls.
6d/5n

LA GRAN SABANA
Discover this land of wide open spaces, mysterious sandstone mesas called tepuis by the Pemon Indians, rivers and spectacular waterfalls. Two ways to explore this part of Southeastern Venezuela:
• 3, 4 or 5 days on a 4WD vehicle, or
• a more exclusive 4 days hiking, camping and Indian canoe off the beaten tracks.

ORINOCO DELTA
Three or fours days of life in the hearth of the delta, in a small ecolodge, where we will discover the various ecosystems and the life of the Warao Indians
4d/3n
MANAUS • AMAZON
You are already in the Gran Sabana? we are only 15 km from the Brazilian border. Why not jump over the border and get to Manaus, capital of the Amazon State, and spend a few days discovering that mythical area.
4d/3n
CARACAS
You will probably arrive in Venezuela through Caracas, we can offer you city tours or help you with airport transfers.
PHOTO SAFARI
Come hone your photographic technique and improve your visualization, while exploring a fascinating place. Accompanied by the photographer Peter Feibert, you will travel through the unique landscape of the Gran Sabana.
8d/7n
HUMANITARIAN TOURISM
For those interested in doing a little bit more while they are in Venezuela: get involved in a humanitarian task for a few days, accompany Dr. Clauteaux on a visit to Indian and miners community on the Ikabaru river